My -page
För Svensk version: Klicka här!

Uploaded 2005-02-20
Latest update 2005-03-28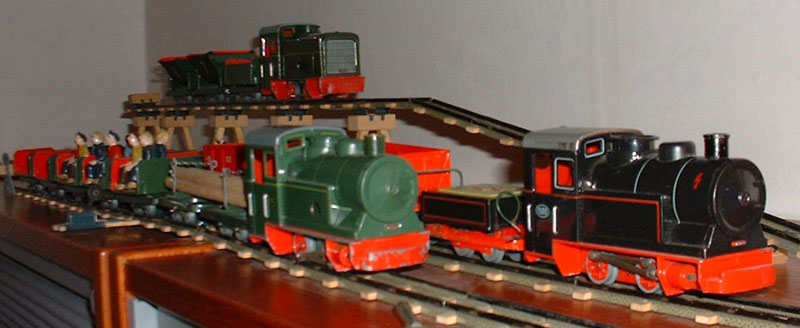 When I was a little kid, in the beginning of the 1950:s, I got as a christmas present from my parents, these goofy, clockwork
driven tin trains. I guess I was a bit ashamed in front of my friends, who had elektric trains by Märklin or Fleichman. The track
was HO but because it was supposed to to be a narrow-gauge industrial railway, the scale was very different.
But soon I changed my mind, discovered that the bigger scale was quite fun. A bit odd, and I played a lot with my trains,
and the coming christmases I added lokos and carriages until 1956 or 1957.
If I am not completely wrong my Biller equipment was bought at the Department Store PUB in Stockholm
For a long time I thought what I was the only one left who had kept my Billerbahn train set. Every now and then I searched
the Internet, found nothing until, a cuople of years ago, I found Torsten Shirdewahn and his homepage www.billerbahn.de.
Torsten has really made a great job mapping the whole production of Firma Hans Biller.
Today Billerbahn has become a bit of a cult, and prices on auktions are increasing mainly in Germany.

Hans Biller made these trains in Nürnberg -of course- in the US zone of West Germany, starting 1948 and ending in 1978.
In my little colletion, below, there is nothing made after 1956.
Links: www.billerbahn.de, Spass an der Billerbahn ,
013 Clockwork diesel engine

Early version approx. 1950

500 Clockwork steam engine

Could be 1953, the year this model was presented

1500E Batteridriven steam engine with batterytender 1502 for 3 AA-batteries
made 1956

502 Early version with flat sides
Probably 1953

502 Later version
Probably 1954-55

I have 3 of this type

503

Flat car with oil drums,no Shell logos Early model 1953-54

501 Flat car probably 1953-54

I have 2 of this type


001 Tipper about 1950

001

Tipper about 1950

505

Timber wagon available from 1953

504

Crew wagon 1953

504

Crew wagon 1953

504

Crew wagon 1953
511 Side tipper, first version 1956
I have 2 of these -the last addings to my Billerbahn colletion.

I also have one

01 whitout basket, and
1 homebuilt crane....
The chassi is a 01 and the tin crane probably from a toy truck...